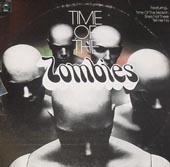 The Zombies
Time of the Zombies (2-LP)
Epic Records, 1974
The Zombies

(1964-1967) are of course best known for their "Time of the Season" and "She's Not There" -- songs that are rightly bestowed the moniker of classic. They shot to fame with the release of "She's Not There" - it was perhaps too much too soon and after their spotty 1st album, they released a spate of singles but only one hit the Top 10 ("Tell Her No") and the record companies soon lost interest. With the money they earned from the singles and some CBS backing, they recorded their second and last album in 1967 and broke up, thinking they were over. Most of them left without any money to show for it (the two songwriters Rod Argent and Chris White, excepted).

Odyssey and Oracle

wouldn't have been released in the states without Al Kooper lobbying for it. Subsequently, their biggest hit, "Time of the Season" didn't really hit the charts until two years after they broke up. Every few years, they go into "revival" -- currently, two of the key members have reunited under the Zombies name for an album of new songs.
If you don't count the charting of "Time of the Season" a revival, this album,

Time of the Zombies

, now long out of print, came out during what I think was their first revival in 1974 (I didn't buy it until 78) - when FM rock radio rediscovered "Time" and "She's Not There." Back then, I bought a lot of singles so I could put them on tape and play along with them on my drum kit - I was entranced with the intricate yet simple beat of "Time of the Season" but it was impossible to find it in any of the department stores within bike-riding distance. It wasn't until I could drive that I could get out to a Tower Records, with its bigger selection, and find it. But alas, this was the only Zombies they had at the time. Unfortunately, it was on this double LP which was not exactly in my budget. It took me several trips of mooning at it before I finally broke down and bought it.
The first disc on this collection includes some of the better cuts from the first album and some of their singles. Unfortunately, the second side is mostly stuff that was not released, and rightly so. It is at times underproduced (one song has the drums sounding like they were recorded with the mic shoved into a pillow - heresy for a

Zombies

song, which always was pretty good about letting you hear each instrument) -- this second side serves as an example of the worst excesses of the British Invasion (I) - mostly failed attempts to mimic American black music. I listened to it again and it only confirmed my original opinion. This is dreck and wasn't worth digitizing.
The second LP in this set is essentially the entire

Odyssey and Oracle

, their highly touted 2nd album. This is considered by some to be on par with

Pet Sounds

and

Rubber Soul

but I wouldn't go that far. Still, there are some decent songs on it worthy of discussion (and putting into my library).

From Side 1:
"She's Not There" - with that well known Merseybeat introduction of drums and bass, the Zombies shot to fame with this teenage classic hit, one of the first in a minor key. Written by Rod Argent and featuring Colin Blunstone's velvety voice, it tells the story of a boy spurned by a female ingenue -- he's trying to act non-nonchalant about it: "How would I know why should I care?" but quickly it degenerates into the frantic chorus once he starts remembering "the way she looked, the color of her hair." A classic that can be listened to time and time again. It's available on iTunes although you have to search for it by song rather than by

The Zombies

.
"Tell Her No" - next to "She's not There" and "Time", this is probably one of their better known songs and the second top tenner. The protagonist, still pining away for the girl of "She's Not There" is offering "advice' to a friend that he can't trust her "with her charms". His warning is not entirely altruistic: "Don't hurt me now, for her love belongs to me;" he poetically whines "Don't take her love from my arms." Near the end the song includes that classic reverb hand clap - here's a sample.
"Whenever You're Ready" - Rod Argent's upbeat Merseybeat composition from the first album includes a drum and bass beat similar to the one that he later perfected in "Time" (although it's in a major key). It reminds me of some of the

Herman's Hermits

stuff - poppy and upbeat, bubblegum that sticks the roof of your skull... imagine the boy singer of "She's Not There" actually finds "her" and let's her know that she can call him whenever he's ready but if she does, "you have to treat me in a better way." Man, that guy is pathetic. But Colin Blunstone's soulful vocals make this believable.

"You Make Me Feel Good" - this is one of two songs by the other songwriter in the Zombies: Chris White. It was only released on post-humous collections and is a bit harder to find. Unlike the unrequited Argent, White seems to have better luck with girls. Some think that White's best work was his later songs that appeared on

Odyssey

but I like his early stuff better. It wears its early

Beatles

influences on its sleeve with that cool laid back beat and harmonious vocals - White was a great copycat composer but he's less self-conscious about it than his later songs. I think that's him singing the lead with Blunstone backing up.

"I Love You" - another Chris White song that has more of a cool quotient than Argent's nerdy fumbling. Again, it is heavily influenced by

The Beatles

but leans more heavily toward whiteboy soul than McCartney ever could. Unlike Argent, White is more proactive about getting laid - might as well just come out and say it but he can't. The soul-searing answer to the chorus of "I Love You/Yes I Do" is "And I don't know what to say" recalling early

Eric Burdon and the Animals

. This appears on the singles collection.

"Is This the Dream" - A successful tribute by Rod Argent and Colin Blunstone to the Phillysound of the '60's. This didn't appear on their first album but was released as a single and appears in the still-available singles collection (which their fans say, is a must-have). Go here to check out a sample or buy it.
"
Summertime
" - although

The Zombies

covered a lot of songs in their career (mostly soul and Motown), this is the only one that is included on their two official records. It seems tailor made for Blunstones' smooth voice and Argent's jazzy electric piano. You can download it and a whole host of "Summertime" covers on
this page
. Check out Paul McCartney's lesser version.
Sides 3 and 4 which is the same as

Odyssey and Oracle

:
"Care of Cell 44" - This song sarcastically reads a letter sent by a boy to a girl serving time and how he's waiting for her return when "we'll get to know each other for a second time and then you can tell me about your prison stay." It includes a cool

Beach Boys

style chorus. It also appears on the singles collection.
"I Want Her She Wants Me" - One of the better songs from

Odyssey and Oracle

, Argent appears to be getting laid, finally. One of the things about Odyssey was that it was partially self-financed and

The Zombies

were pretty much given artistic freedom (no sidemen). And so this is somewhat experimental in that the instruments are placed in full stereo. The harpsichordish keyboards and bass are fully in the right channel and backing vocals are in the left channel. What's interesting is if you turn the headphones around, it really doesn't work.
"A Rose for Emily" - I typically don't like these flowery songs that seemed to crop up on a lot of Brit Invasion albums (and later perfected by the

Beatles

with "Dear Prudence" and "Eleanor Rigby") and this almost didn't make the cut but the harmonies combined with the under-stated piano are too beautiful to pass it up.
"Time of the Season" - their "last" recorded song (that is their last before various "reunions,' fake

Zombie

bands and their current "incarnation").... Still, this song is one of those that never really sounds that dated. The drums and bass recording was among the best of that era, everything is clear and up front including that famous clap and exhaled breath. I think Rod Argent was one of the first that successfully brought organ into rock and roll (later he would be known for the organ-heavy "Hold Your Head Up High"). As the last song of their canon, the boys have come full circle - now instead of being the prey of some winsome lass, they are the seducters. This can be found on iTunes (and is probably kicking around in some of the indexes) and is a welcome addition to any playlist.
Here's a sample of that famous drum, bass, clap and human beatbox beat - use it in your mash-ups.



Notes:


Rod Argent and Colin Blunstone using

The Zombie

s monker have released a new album. I listened to it at Tower Records here in DC and was very much underimpressed. With the exception of the first song, it mostly sounds like the worst of late '80s

Elton John

as filtered by early '90s VH-1. Pass it up.

While

Odyssey and Oracle

is highly touted (a remastered version with extra tracks is available from Rhino), I think if I was looking for a definitive

Zombies

record, I'd go with the Singles Collection (I am linking to CD Universe because they seem to have the best price).



The Zombies

fan page was key to doing research for this post. It's a great site with an awesome discography (listing all the song names is key, in my mind, to a proper discography) and well worth checking out.

For a slightly different and more comprehensive take on the Zombies check out Wilson and Alroy's Record Reviews.

PopMatters also liked

Odyssey and Oracle

more than I did.

Rod Argent's home page, a poorly designed tribute to all things Argent (no mention of Chris White in his "short history" of

The Zombies

) but it does include a fawning interview of Argent by

REM

's Peter Buck that originally appeared in TheStranger.com. Argent, you might know, led a group called, um,

Argent

and was famous for the organ grinding Mullet-rocking goose-stepper: "Hold Your Head Up (High)" ...

Colin Blunstone's home page.

Modern incarnation:

Franz Ferdinand

?