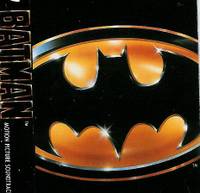 Batman, Motion Picture Soundtrack




Prince

, WB 1989
This is one I'm not going to post any music for - not sure I want to piss off the Purple One. Just wanted to note, for anyone who gives a rat's ass, that it's in my collection and about four songs were worth digitizing ("Partyman," "The Future," "Batdance" and "Electric Chair"). I suppose I bought this in the heat of that Batman frenzy of 1989 and the fact that it combined

Prince

, Jack Nicholson and my beloved DC comic book hero (yes, Bats over Supes anyday). That said, I like dancemusicsex Prince ("Erotic City" brings memories) but not romance ballad Prince. And there's more than a little bit of the latter (yawn) in here.... I have to wonder if DC Comics was a bit wierded out by such lyrical images as Bruce Wayne telling a dirty jokes to Vicki Vale and "Gemini" (Prince's apparent imagined alter ego villian) wanting to stick his 7" in a computer. Does that fall under the Comics Code?