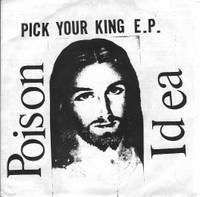 Pick Your King (7" EP)

Poison Idea

Fatal Erection Records (1983)

Portland's
Poison Idea
captured early in their existence (their debut record) wasn't much distinguishable from the best of the MRR-style hardcore bands of the period. They would later become one of the best of their grouping. Generally common song topics for the genre (anti-governement, anti-self-abuse, anti-hate, anti-cult bands, pretty much anti-everything but loud fast music), grinding guitars with minimal flourishes, speedy drumming, bass thuds and anguished red-faced vocalizing. Their later stuff (the classic "Kings of Punk") added more ideas, improved songwriting and playing and an ability to go outside the boundaries (although not too far).

The lyrics do show a glimmer of that and I've sampled one of few songs that shows any sort of variety, even if it is done in a mocking way.

Record is bright blue clear vinyl and features 13 songs (!) in a 7" 33 1/3 format.

"
Reggae (I Hate)
" (2.2 kbps VBR; 2.2 Mb)


Lyrics:



Notes:


- Band doesn't run a website anymore. Taang Records has a
discography
.

- This EP was later collected in a "Best of" CD - check
here
for prices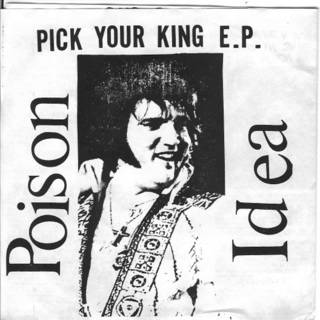 The other king...