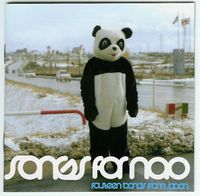 Fourteen Bands from Japan
Chapter Music CD, 2005
One of the frustrations for music fans in the U.S. seeking the exotic and challenging is the dearth of information about the underground and indie scenes in other countries. Much of this music and bands, as I found in my foray to Malaysia several months ago (
here
and
here
) are challenging to find even in a country where my own native language is spoken widely and fluently. Japan offers a more significant language barrier to me because, well I don't speak or read Japanese. Most band websites are in Japanese and its hard to navigate through their band community sites (although with the introduction of Japanese translation in Google, this may become a little easier). Forced Exposure,
Aquarius
and a handful of other mail orders have some of the hard-to-find Japanese music (for instance,
Songs for Nao
) but generally carry the more esoteric jazz/improv noise or the older more established groups (
Acid Mother's Temple
,
Boredoms
,
Ghost
, etc.).
Beikoku-Ongaku
(buy at
insound
), a Japanese zine that covers the indie side of the J-Pop scene helps (especially with their CD comps) but usually doesn't veer into lo-fi, psyche-folk territory. In this case, one needs a patient and knowledgeable guide to make their way through this. Enter Guy Blackman, the chief of respected Australian lo-fi/indie record label
Chapter Music
. Guy took an 18 month sabbatical in Japan between 2002 and 2004 in order to find out more about the music scene and make friends and Songs for Nao is the most welcome end-product. It comes with a useful 16-page color booklet wherein Blackman and Shintaro Kiyonari provide liner notes on each band and Eigo Shimojo's intriguing lo-fi pictures of surreal life in modern Japan (see the cover picture and below).
Songs for Nao is a fascinating look into a music scene that very much mirrors the US scene but with subtle differences, as if through a distorted glass caused by distance and culture. Most of the music in
Nao
centers around the
Majikick
record label, a loose collective of friends and musicians and artists run by husband and wife Takashi Ueno and Saya. Both of them play and sing in several of the bands here - most notably
Tenniscoats
and
Puka Puka Brians
and they are friends (and often play) with many of the other bands. Jon of
Worlds of Possibility
has described Japanese underground's unique ability to "grab genre conventions and exploit them to near-parodic excess." While I understand what he is saying (and he means it in a positive fashion), I can't entirely believe this after listening to Nao several times. It is true that most of the songs here are some combination of lo-fi, world, psyche, folk (both Eastern and Western), pop and drone/raga. The more obvious touchstones are American -
The Velvet Underground
,
Jad Fair
,
Daniel Johnston
and some of the various psyche-folk acid collectives. But one hears Indian, Eastern European, traditional Japanese influences and the more contemporary Japanese pop and rock bands. In the latter case, I'm talking about the aforementioned AMT, the "softer passages" of Ghost and even the raw enthusiasm of
Shonen Knife
-- there's probably more here but that's about the extent - not counting Japanese hardcore - of my knowledge of Japanese rock.
The themes of many of the songs are familiar to the neo-folk scene - although there is less "inward" direction and story telling than in their Western peers. For the most part, the bands and songs suggest love of community and nature. Band names come from mystical experiences in nature - one band derives their name from a song on the radio playing at the same time that they see words on a beach get wiped away by the sea, another is described as forming on a river bank. The Tenniscoats' name came to Saya while she was watching fireflies in a rice paddy. Songs are about friendship - making and keeping friends through distance and fate as well as recording interpreted images of nature. One song (
Nikaido Kazumi
's "Temperature of Windowside") is said to illustrate the images of "A strong wind blowing, tepid air in spring, and the creaking sound of old windows in an old house."
"Here is Very" by
My Pal Foot Foot
opens the record. An amateur trumpet and guitar trade off verses with an acapella female voice. It is soothing and yet tentative as it describes the relationships of three different friends living in different places. One thing that is interesting is that there is a vein of traditional Japanese music theater (I think it is called No) that alternates between a female singer and a small orchestra and I wonder if this is being subconciously or deliberately referenced here.
Yumbo
's "Cake" is a soft rocker that the author openly admits was heavily influenced by "Sunday Morning" but its upbeat "happy" sound masks the lyrics which are said to be about family dysfunction.
Maher Shalal Hash Baz
is a sprawling band with a floating line-up of ten or more musicians reading leader Tori Kudo's scored pieces. Here is a sort of sacred softly sung song (in English) called "Book of Life." As with other bands, the musicians are of varying talent, leading to an interesting texture in the music.
Andersens
, a young band formed by three boys in high school (now apparently in college) make an impressive three-part psychedelic piece called "Swan" - one can hear similarities in the vocals to the Jewelled Antler collective as well as some of the more indie shoegazers. But one interesting aspect is how they make their soft dissonant guitar riff recall a
Koto

.
Puka Puka Brians
, a band named after Brian Jones floating in his swimming pool, stopped me dead in my tracks and I had to play the track over and over again. Entitled "Goodbye from India", its a meandering, noisy raga jam with sitars, brass, percussion, noises and saxes that roam all over the place. A real lovely din is raised here. Like Maher Shalal, this is a large band but somehow, like those Japanese puppets controlled by multiple people, it makes for a cohesive piece.
"Summer Days" is an innocent and simple pop piece by a band named after a fanciful Japanese toy store -
Merci-S
. It seems tailor made for the cinema, perhaps a young love scene. If I could, I'd slip this in
Chris Douridas
' iPod for his next Dreamworks soundtrack.
Every good compilation should have a couple cuts that are different. Here
Eepil Eepil
's "Kilmanjaro", a sort of
Birthday Party
garage romp about a childhood experience of the late drummer (Uchibori) is a welcome diversion from the more poppy and folk songs. As is "Blue Wave", a Shonen'ish rocker by two heavy metal go-go dancers. But before you reach for the J-Pop filter, consider that the band digs German prog rock and NYC new wave. the song is supposed to conjure up the image of a girl surfing in a "blue sea under a blue sky, with her mind totally in a trance."
The final cut ("Telen Pa Wu") is an improv masterpiece of theme and counter-theme by
Tenniscoats
trading between two melodies as played by instruments (again with the trumpet, keyboards, guitar and what sounds like a toy synth) under differing levels of competency and singers (the male off-key and playful and the female exactly on target and ethereal). One instrument (guitar) seems to be playing a totally different song. It goes on for 10 minutes and needs to be listened to in full glory with perhaps candlelight or watching the sun set.
The other cuts are fine and worth exploring -
Pervenche
's "Good Night" is perhaps the most indie-pop of the songs and the band has a growing reputation outside of Japan. The aforementioned Nikaidoh Kazumi's cut is deceptively complex and seems to borrow from the Bulgarian folk singers - it can't be dismissed without a concentrated listening. And I can barely muster a complaint about any other the songs I didn't cover here. I'll leave it to the listener to discover
Place Called Space
,
Kinuta-pan
and
Nagisa Ni Te
on their own. The music is spectacularly recorded but is best listened to direct from the CD (uncompressed) and with a set of headphones. Mp3s do not do it justice. It is, to quote my betters, a "mind-zap." The good news is that if this compilation is a success - then perhaps Mr. Blackman and others will be encouraged to get back catalogue of the Majikick (and their peers) and upcoming releases into wider distribution.
Songs:
"
Swan
" -
Andersens
"
Goodbye From India
" -
Puka Puka Brians

"
Summer Days
"
- Merci-S
These songs are posted for a limited time WITH the permission of Guy Blackman of Chapter Music and are (c) 2004 Chapter Music.
Links:
Chapter Music
Majikick Record
Label
An
interview
with Andersens
Purchase Songs for Nao at
Forced Exposure
. Hopefully decent sales may encourage FE and Aquarius to carry more of the Majikick back catalogue and give Chapter Music a higher profile there.
Currently, Majikick records are hard to find in the US but GEMM's
Jet Set Records
partner provides a solution at reasonable prices. Go to the
GEMM
mainsite and use the search term "majikick" with "record label" selected.