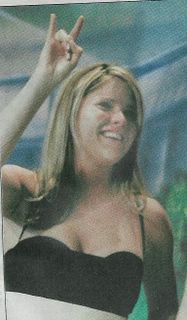 Inauguration week in DC has me about ready to go find a corner and start cringing. IT's not just the myriad of street and Metro closings, wacko pro and anti
protesters
, assorted
nuts
that shut down everything with phony bomb threats, pointy-haired
project sponsors
who insist on meeting - across town - at 11 AM today and of course the ill-timed
snow and ice
yesterday afternoon. There's just so much (mostly bad) music that if you throw a rock you'll probably hit some blue-jeaned country-"rock"
singer
or a dread-locked
punky
protest band member.
The Post
summarizes
. Can you imagine the look on Peter Wolf's face when he sees DC's
worst bar band
opening for
J. Geils
? And can someone PLEASE get
3 Doors Down
out of our town - now!? It's like there's this vacuum cleaner just sucking all life out everything so long as they're within a 10-mile radius. Here's our Vinyl Mine guest commentator,
George W. on the anti-Doors
: "How about 3 Doors Down? Pretty cool guys, right? Seem cool to me." Well, not cool enough for your daughters who avoided getting on stage with any of the lame-o bands that showed up (methinks they are a bit miffed that their pal, Kid Rock got disinvited).
As we wait breathlessly to find out what Dick Cheney thinks about
Jojo
, what struck me, what with all the anti-skank-ness against Kid Rock, were how
Mr. Greengenes
got through the prudery filter.
In the later hours, the Next Generation of Republican Leaders sponsored a "Late Night in the Green Room" at the Wyndham Washington Hotel. Musical guests included this aptly-named group for this party( again, for the record, that's
Mr. Greengenes
, get it hahah?).
Here's a sample lyric from one of their songs, "Shotglass" where the timeless question that vexed our previous President is asked once again
:
Put the quarter in the cup -- C'mon and hurry up

Things are moving 'long y'all and I can't miss

(Off with the bra!) You better do what he says Miss

Damn! I thought your shirt was too tight

Hey, are those things real? Let's hope the rest ain't cellulite

For real! And let's step to the wall.
Man, those Next Generation of Republican Leaders (think Republicans as Mayflies) listen to some pretty edgey stuff! If you're brave, you can listen to the song here (WMA) or just go to their website and feel, y'know, dirty and skanky and all. Anyone got Don Wildmon's phone number? I think these Next Generation of Republican Leaders need to spend some time in the stocks.

But, there's the other end of the spectrum and its alot less exclusive and, um, dumb. Q AND NOT U are playing a $5 benefit show tonight. Here's the details:

Thursday, January 20th -

Washington, D.C. - Sanctuary Theater/Calvary Methodist Church (1459 Columbia Rd. NW, between 14th and 15th Sts. near the Columbia Heights Metro) - w/Anti-Flag, 1905 and Del Cielo - 6pm - $5 - ALL AGES. This show is a benefit for Empower DC and Jan. 20th Protest efforts against the 2005 Presidential Inauguration. For more info, go to www.positiveforcedc.org
I'll probably be too beat up by dealing with the work thing and I don't relish shifting from toe to toe waiting for Anti-Flag to end. It looks better than the Black Cat show - in any case I hope my neo-con t-shirt arrives today since I'm sure it will annoy alot of people if I venture out (personally, I'm a neo-realist).

So, here's "So Many Calls" by Q and Not U which will be on my iPod as I venture with great trepidation into the Metro today - it comes courtesy of Albany-based WakeupPunk Radio where there are lots more where that came from. Visit them, give 'em your love (all they ask is for you to be their Friendster) while I go find a corner to cringe in until its all over and I can go outside without getting frisked and having my camera confiscated.

However, there is hope. The poor man's Jill Scott is playing at DC 9 tonight. For a total non-political bent, chill out with Deborah Bond. Here's her "Giving Up"
For real! And let's step to the wall.