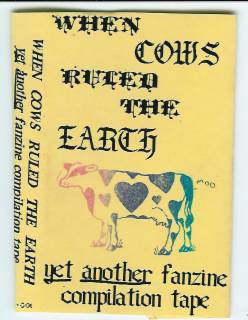 When Cows Ruled the Earth

Yet Another Fanzine Compilation
, 1985
Featured Artist:
Scrawl
My first cassette chronicled here on this journal. Huzzah - plenty more where that came from!
Unfortunately, only about three cuts on here worth keeping and only this one worth blogging (well, the
Gibson Bros
. cover of "16 Tons" was over my 5 Mb file limit). A lot of the problems with the tape have to do with the sound quality of the original recordings.
Great Plains
for instance only submitted pretty much throw-away soundboard recordings and some of the others just sound too much like demos. Others are just plain okay. Scrawl actually has a second cut on here ("One Word") but the recording quality is awful, I'm afraid.
Ok, so where was I... lesseee...before MP3 Blogs, before whatever was before MP3 blogs, there were fanzine compilations. This one selected artists from the Columbus Ohio area -- that is if "selected" means they pretty much threw whomever sent them something on the tape. Back then it was more about supporting the scene than finding the coolest cuts for your little internet pals.
Yet Another Fanzine were aptly titled since Columbus was a fountain of many, many zines including one of the grand-daddies -
The Offense Newsletter
. The music and scene echoed the proximity to Cleveland and the first punk wave (
Peter Laughner
and his gang of merry men) and later no-wave (
Pere Ubu
, etc.) as well as the Akron weirdness but with a friendly, bent elbows around the bar feel. One of those scenes where everyone knew everyone and pretty much liked each other. There's something about Ohio that drives a man person a bit crazy but in that nice mid-western way. Of course, having a huge University nearby also contributed to the pool of musicians,aspiring songwriters and most importantly bars and people with Daddy's cover charge money.
I visited Columbus during this time, at the invitation of the great local college radio DJ (and psychologist), s. b. tobias who I met over the early Internet (the wild time between ARPA-net and Internet when several networks were duct-taped together). The weekend I visisted was also "Hands Across America" (no, we didn't participate) and we spent it drinking, hanging out with Ron House (then Great Plains now
Thomas Jefferson Slave Apartments
), drinking, meeting Don Howland (then rock critic now 1/2 half of Gibson Bros.), listening to the Beastie Boys album, drinking and of course hanging with s. b.'s good friends Craig Koon and Keith Baker, who published
Yet Another Fanzine
and this tape.
This tape chronicles the Columbus scene, ca. mid-80s. From teenage hardcore to basement synth solo artists to some of the Columbus was-beens, hot bands and soon-to-be-greats including
RC Mob & Amrep
(was-great),
Great Plains
(hot at the time) and Gibson Bros,
Dark Arts
&
Scrawl
(just getting off the ground). This might have been Scrawl's first demo not to be confused with the band
Gutterball
. It's rough around the edges, sure, but you can see where they were going.
The liner notes (by Craig) regarding the Scrawl cut are as follows:

An anthem for punk feminists everywhere. Or anyone, really. If this can't move you then you can't be moved.
Well this was before anyone came up with riot grrl which is what the song is pretty much an ode to (it also would have been apt song for Enid from
Ghost World
). Yeah, there's tape hiss - try playing with your equalizer if you don't like it. There's lots of
Scrawl
still out there (like
here
or
here
) though I believe the band has broken up (Behind the Music anyone?)...
This song appeared on their near-impossible to find debut:
Plus, Also, Too
- which is somewhere in my boxes (my old pal, s. b. was one of the financiers and graciously sent me a copy).
Citizen Keith did a
show
in 2001 in which she did 'Gutterball" so even if the band is kaput, she's still out there somewheres I guess. Marcy also sang a cut or two with the
Afghan Wigs
(1993) as well. Enjoy.

Gutterball