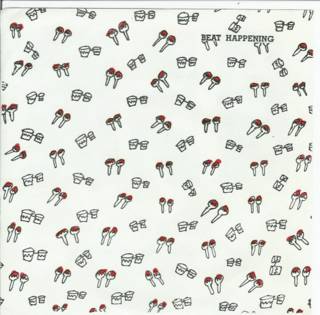 "Our Secret" b/w "What's Important"
Beat Happening
"K" Records, 1984
While I never liked the
Beat Happening
debut LP the way others took to it, I did like this single or at least the B-side ("What's Important"). It features a quiet, poppy Heather song about the things left unsaid between two friends. A slowed down Jonathan Richman, I think, and a good example of what some of the original (modern) lo-fi sounded like. Lyrics are
here
.
Beat Happening
, if you didn't know, are the modern progentitors of what has blossomed into a rather healthy lo-fi movement and this came off their first LP. Calvin, who sings and strums, runs the Olympia-based"K" Records. The A-side ("Our Secret) is sorta what turns me off about them. Despite the sweet lyrics, Calvin singing in his off-key, and that voice makes me tired and queasy for some reason. I'm sure it's just me. Someday I'll have to put together a mix CD with just Heather songs and maybe one or two Calvins.
"
What's Important
" (201 kbps VBR; 2.9Mb)
Notes:
If you not familiar with

Beat Happening

, you can download more of their stuff plus lots of the other bands on "K" Records
One factoid - to my knowledge Beat Happening has never covered another artist or band (at least in their recorded material). All songs 100% originals. They have been covered, though, themselves. There's also a tribute album with Scrawl, Sonic Youth (Kim and Thurston, at least) and Superchunk contributing...


Both sides, in fact the entire debut album that later came out, was produced by Portland's Greg Sage

You can also buy this song on the debut LP - CD Universe has a good price