Back in my hometown, every Memorial Day brought about the Battle of the Bands, a big event in those parts hosted by the local Top 40 radio station who cared little for the local music scene except for this yearly exercise in crude exploitation and self-promotion.
Exploitation? Crudeness? Self-Promotion?... if they can do it, why can't I?
The rules for entry are:
1) Must be a pulled at random 7" from the Vinyl Mine box. One cut will be pulled from the single as deemed worthy by me, the Chief Judge.
2) Must be out of print music (or at least believed to be)
3) You can vote for your fave in the commentary box over the next two weeks if you so desire and I'll announce a winner.
Entries: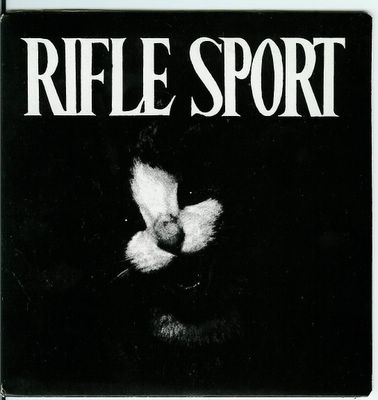 Rifle Sport
- "
Unplanned 39
" - (1985) a Minneapolis band
previously featured
in Vinyl Mine returns with the flipside of their "Plan 39" single. Featuring a guitar riff that sounds like it came from the
Hong Kong Phooey
show, J. Christopher's distinctively raspy vocals and their own "neverending chord"
Beatles
tribute at the end, this version of the a-side song (a remix?) upends the original into an entirely new kitty cat. It brings out the more
Burma
-ish aspects of the original but in an "unplanned" maybe(?) satirical way. I took the title from the label on the record but on the record sleeve this song is referred to as "Itself Sideways" - just in case it comes up in future editions of Trivial Pursuit Obscure 80's Punk Bands Edition. Love the guitar sound that "replacement" guitarist Joe White got out of here (bracing myself for some Zom Zom hate...) This single was released on Ruthless Records (without a catalog number).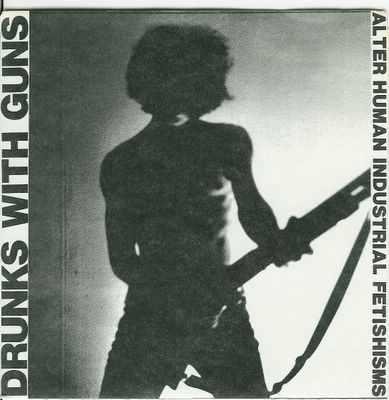 Drunks With Guns
- "
Leprosy
" from
Alter Human Industrial Fetishisms
7" EP - If you're looking for the cure for a headache, don't call Myk Doskocil as his solution will be to drill into your skull until all pain is gone or you're dead. A sort of extreme anti-hardcore band that, ignoring their trailer park manager, went and dived into that filthy septic tank just for fun and then stayed there throughout the 90's. Like a lot of their songs, "Leprosy" starts out all conventional with chorus/verses and shit but then just latches onto the chorus and repeats until you clearly understand that skin disease is no fun to have. I was always afraid of leprosy as a kid (too many of those ungodly Bible movies) and always found myself looking around corners for guys dressed, a la Darkman, in cloaks and hoods holding out their festering contagious skin. The image of the leper is the outcast and that's surely an image DWG want to cultivate, whether its deserved or not. The band got alot of love from the fanzine world and St. Louis seemed to tolerate them enough as well. The record doesn't list anyone in the band except Doskocil but
Grunnenrocks
says there was a band here (including future Doskocil legal nemesis Seth Seirich). Read about the history of Drunks with Guns at
St. Louis Punk
.

Poison Idea
- "
Laughing Boy
" - from the
Drinking Is Great
4-song compilation EP by Fatal Erection (1985). This was from the batch of songs that were considered for their first great record,
Record Collectors Are Pretentious Assholes
, and according to some website it was included on the German version of that EP. One of the greatest punk bands of the time,
Poison Idea
had a loyal local following and so rarely toured (I never saw them live) but eventually earned the grudging respect of those that had long left the hardcore punk scene behind. They had the spark that so many lacked - I still get the hairs standing up on my neck when I hear this song - it truly defines a point in time for me. The EP (put out on Pig Champion's label) this appeared on showed the vitality of the Portland scene that had sprung up at that time. What I scanned above is from the lyrics/liner notes insert. The back of it includes some Eugene/Portland gig posters of the time - most of which follow a similar sense of humor as the cover. Here's a scan of said cover of this EP for your enjoyment (click on it to enlarge):

And here's a link to a scan of the
second reissue
.

Sister Ray
- "
Invasion of the Pussy Music
" from the flipside of the "Feel Like This" single (1988) - on the band's label (Box K). This Youngstown, Ohio garage rock band stubbornly refused to play along with the hardcore scene and for several years paid the price of both that choice and coming from a small town - finding it hard to book shows and sell records. Around the time that this record came out, though,
Forced Exposure
, then a fanzine put out by a bunch of flamboyant Bostonites, put out their 7" on their fledgling label conferring instant cool onto the heretofore obscurities. I suppose FE referenced them as a
Stooges
/
MC5
aware band. My impression upon hearing this was that this was basically a hard rock garage band that didn't seem to have much more than
Argent
and
Black Sabbath
in their collections. They just happened to name themselves after the iconic 17 minute
Velvet Underground
song - maybe they saw it referenced in a Crawdaddy review of
Procul Harum
. In reality, I was wrong - singer-songwriter-guitarist Sam D'Angelo was pretty hip to the scene. Instead they tended more towards the hard rock and tongue-in-cheekism of their Cleveland heroes. This flipside song is an example of a pop-rock song -- with a bit more guitar whack and some more self-pity, it could have been a latter-years
Husker Du
piece or maybe late 90's
Foo Fighters
. But it is bookended by a faux-radio announcer and a self-depreceating coda (which explains the title of the song since the original song seems to be called "Is Love The Answer") that apologizes for writing a pop love song. I don't know why they felt the need to prostrate themselves, it's a great song by itself. Here's an
interview
done in the same time frame from
Noise For Heroes
if you are looking for more info on the band.
w

The Funseekers
- "
If You Don't Love Me
" from
We Is The Funseekers
7" EP (1986) released on the band's Susstone label. Another band that often played with tongue in cheek, this retro mod group from Minneapolis tries to recapture the fun days of 60's UK invasion (more
Zombies
than
Stones
, though), whiteboy R&B (think
Loving Spoonful
) and, of course, Nuggets-style garage modpunk (I mean just look at the cover picture). Two guitars adorn each channel - one playing the evil pysche-pedal and the other plucking a harp-like riff leading one to think of the proverbial devil and angel who perch on the protaganist's shoulders as he contemplate some nasty act in revenge for his girlfriend's betrayal. He's absolutely seething with envy and anger and we know the outcome is not going to be a good one. Members from The Funseekers are now in
The Autumn Leaves
and
The Conquerors
.
Here's all five songs - I'll put my vote in the comments in a few days: