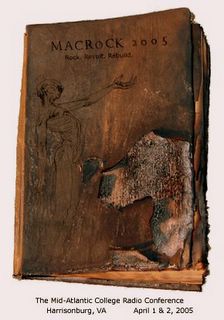 Our little
SXSW in the mountains
is this weekend and I'll be there (thanks to Hilton Honors points). Just to compare, MacRock's keynote speaker is
Amanda MacKaye
(she's actually one of several) while SXSW's was
Robert Plant
. The line-up looks like its gonna be a rumble between the acid folkies and the retro-HC-punkers. There's a label expo on Saturday and hope to find some goodies. There's also the added benefit that the shows are mostly in large ballrooms, no smoking and drinking - alas, no photographs either.
Here's a car mix CD of some of the bands I hope to see. Note some of these cuts aren't all properly tagged so you may have to do some editing if you want to keep track of, you know, little things like band and song names. Sheesh.
Otherwise, they are all "free and legal"... MP3s I couldn't find were
Black Mountain
and
Sunburned Hand of Man
. Anybody got a hint?