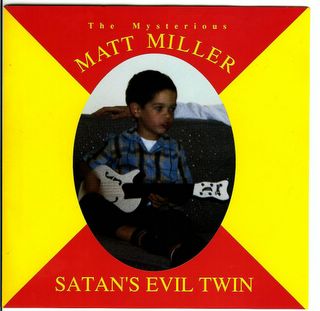 Satan's Evil Twin
, 4-song 7" EP
Chew Stick Records, 1991
Somewhere inside the unholy triangle of
Gibby Haynes
,
Charlie Manson
and
Eugene Chadbourne
resided
The Mysterious Matt Miller
, a one-shot 4-song 7" that was probably sent to every 25 cent fanzine in 1991. Four songs of pseudo-paranoid shock and schlock baby punk lyrics backed by manic strummed acoustic guitar and a white boy gutteral singing - perhaps what Jeff Dahmer, arrested in 1991, might have sounded like.
We still don't know who Matt Miller is although my money is one the guy who set up the original Internet shock-site (goatse.cx) a few years back that got geeks in a feeding frenzy. Besides, NPR Commentator Matt Miller has already denied any relation and I think we can rule out the bass player from Dreamwork indie ghetto band
Sparta
since this would be, like, a career killer to admit.
"I'm Going to Kill You" puts the infantilism of late '80s punk into an open mic night context. Way dated are "Let's Get AIDS" and "Amazing Disgrace" - what with refs to
Jimmy Swaggart
and
Jim Bakker
and homophobic (probably pseudo but who cares) AIDs ranting, all those easy punk targets and anti-PC shock tactics from way back. But let's give Matt some credit for the clever "Goin' to Hell", about as good a summation of life in Lee Atwater's America. Substitute
Ashley Simpson
for
New Kids on the Block
and
Desperate Housewives
for "Steve and Marcy" (a
Married with Children
reference, I guess) and its just as current. And as Matt so rightly points out, at least in Hell they won't play
Springsteen
(or will they?). And anyway, if anyone deserves to go to Hell, its the goatse.cx guy for searing that image in everyone's mind.
But I have no proof he's the goatse.cx guy but Internet forensics (thank you, Wayback Machine) do suggest that the real Matt Miller morphed into a full-up Chicago band by the mid'90s and played shows with anarchist bands. Somewhere in the 90s, he formed a follow-on band called
Catharsis
and a record label (
Fifth Column Conspiracy
) that was releasing metalcore records as late as 1999 before it folded. Current whereabouts unknown.
MP3s:
"
Goin' to Hell
"
"
I'm Going To Kill You
"
Links:
The goatse.cx controversy
(also
here
)
goatse.cx
tribute
because we can never get too many variations of the original image
Wayback Machine's
capture
of Matt Miller's website