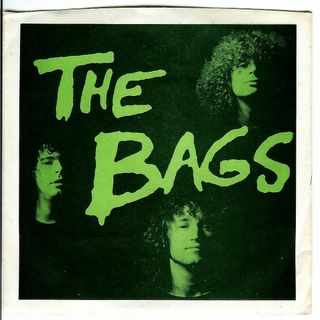 "Hide and Seek" b/w "I Know"
7" single, Staunton Park Records, 1989
Earlier this year I
wrote
about the Boston hard rock band
The Bags
and was happily surprised at the positive response I received. All those folks that were enthused will be happy to learn that since then, the band has reformed, launched a
website
and released a
new album
. I haven't heard it yet but
The Noise
gave it a
good review
and the original Vinyl Junkie
Brett Milano
has written an
article
on the band's reunion and calls their new album their best ever:
Imagine the post-therapy self-loathing of Metallica's St. Anger played for laughs and you'd have the Bags' "Believer" or "Ass Kicker" ("You're gonna kick my ass, that I do know — Kung Foe"). So forget about this being just a respectable comeback and call it the Bags' best album. Period.
Staunton Park has also got a
nice bio up
, some sound samples and you can buy the record directly from them.
This is from their 1st single on Staunton Park (actually their first single period) although they had released their crit. aclaimed LP
Rock Starve
two years prior. According to their website this is a"rare" single. The A-side "Hide and Seek" has been recently released in a
live CD single
. Here's the much better flipside song (aren't B-sides always better?) - so comb your hair forward so it falls in your eyes and start banging:
"
I Know
" -
The Bags