Schock-Rock (or is it Schlock Rock?) Friday!
Edith Massey sings:
Edith Masseys' unaware parody of punk rock was so appropriate and was just so Baltimore. They are also so freaking upbeat and oughta at least bring a smile to the most glum of punx.
I lived in Charm City for a few years and every time we tried to get down to visit Massey's thrift shop, it was closed (later I learned she had moved to California). We contented ourselves to pointing out the Waters production crowd (usually very skinny long-haired hippies) if we spotted them at Fells Point or elsewhere. Water's casting director and good friend, Pat Moran occasionally was seen in the back at shows in the Marble Bar tapping her fingers and smoking a cigarette. I think she was just chaperoning her sons who showed up at shows.
I never saw Waters (or Massey or Divine for that matter) - he lived (or probably still lives) in a tower apartment near the Inner Harbor - by that time he was bored with punk though I had been told that in the late '70s he'd show up for shows. I believe
Hairspray!
came out around that time and it was neat to get all the geographical references in both that and
Serial Mom
- I lived only a few blocks from the Towson Little Tavern where Edith's character works in one of his movies.
I found this picture disc years later when I lived in Washington and snatched it up immediately. Another one of my prized possessions although I'm not sure it has much monetary value.
Waters wrote extensively about Massey in Shock Value including what happened when Edith met Warhol - it's a hoot and definitely the best of all his great books. Here's a short excerpt on Edith's punk years:
"Between films Edith has managed to get together a singing career for herself. Her first venture was a musical revue backed by a notoriously butch female combo called

Jan and the Rockajets

. Edith wowed them with such numbers as "Big Girls Don't Cry" and all of

Connie Francis

's hits. When punk first came out, I suggested to Edith she adopt this look for novelty reasons. Edith is about as far from punk as you can get, but she realized it was a good gimmick and would make good copy for journalists who were always searching for a new angle to write about her. She retrieved her old leather S&M outfit that she wore in

Female Trouble

from mothballs, glued a spider on her face, collected some original music material and began to tour the country as the Queen of Punk. When she played her hometown of San Francisco, many of her old chums whom she hadn't seen in twenty years showed up to cheer her on with the rest of the sellout audiences. Since Edith is the first to admit she can't sing a note, her show had the appeal of a Mrs. Miller- Florence Foster Jenkins goes punk. I advised her to take the money and run."
John Waters
,
Shock Value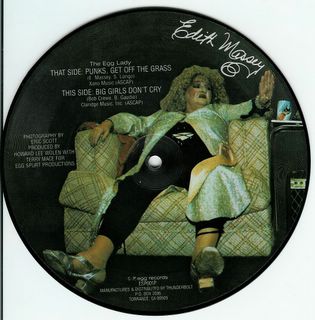 Edith Massey, 1918-1984
The songs are also hosted on a more permanent basis on the recommended John Water's fan and news site:
Dreamland
: visit that page directly at
Edith Sings!
See also
Edith Massey Tribute Page
for a copy of her obituary in
Variety