SHOVE Records, 1986
And hope's just another rope to hang myself with
To tie me down till something real comes around
And if I started crying would you start crying?
And if I started crying why are you not crying?
-- "Theme (If I Started Crying)
Rites of Spring
(lyrics attributed to "Dennis")
I'm wallowing in the mire of misery
Situation's hopeless, I know that's true
There's only one thing left
That I did not do

-- "Kill Yourself"

Pussy Galore
One band that was criminally overlooked in
Our Band Could Be Your Life
had to have been
Pussy Galore
. I think they get, like, one mention. The band has always confounded politically correct rock writers and scenesters who find it hard to believe that a bunch of upper-middle class brats could put together such an impressive truckload of noise-rock in such a short period of time. Christgau dismisses them: "All these postdadaists want is to provide the forbidden visceral thrill of rock and roll at the moment they snatch it away as an impossible fake--to be the-thing and not-the-thing simultaneously" and for once, ironically, he's right.
Pussy Galore sucked! Pussy Galore ruled!
Although their original motivations in moving to Washington DC are unknown (was it to participate in the exploding music scene? or was it just to mooch off of Julia's well-off family?) by early '86, Pussy Galore seemed all to eager to chomp on the corpse of 1985's Revolution Summer, which as Julia Cafritz later taunted from her safe perch in New York City: "Where are they now? Just as soon as the interviews come out, they've already broken up." (She was wrong as the scene re-emerged the following year). But, hey, its 1986 and if it gets you an interview in
Conflict
, then go with it? I mean, you're some scene dink, so how do you go to a show in DC if your fanzine just ran an ad by a band that sings "Fuck Ian MacKaye". And there were no explanations, no apologies and no backing down even if they had a lot of "Rambo Punks" get up in their faces. They compounded the provacation in this album with "You Look Like a Jew" a windy shitstorm of breaking glass
and taunts towards the DC's concentration camp chic of shaved heads, thrift store clothes and the "fear of offending Dischord". All the more confusing title and lyrics as Julia Cafritz's family are Jewish.
In his best
Mark E. Smith
imitation, Spencer rants:
"See the smoke rising from the Dischord House
Smelling the burning burning
...garblegarble...
Says we cannot accept this ad....
cannot accept this ad.... FUUUUUUCCK".
Pussy Galore are assholes! Pussy Galore are cool!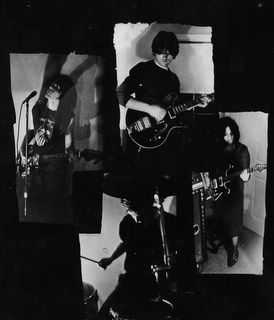 Then there was the "problem" of musicanship, or should I say in my best Ira Robbins sniff: "atrocious non-musicianship." Scarluffi calls it "sub-amateurish" The common belief was that these bunch of druggie rich kids (forget Neil Hagerty and his white trash girlfriend for a moment) were just a big joke and would go away if they were ignored. They're just picking up their guitars in between jet setting and Georgetown parties to get Mummsies and Daddy mad -- but not mad enough to cut off the trust fund or the maid service. The truth was that the best rock and roll was done by people who could barely play their instruments and came from all stratas of class... Jon Spencer (a straight-edger according to Hagerty) had a distinctive vision and knew exactly what he wanted to do even if the others were confused at times (evidence: his follow-on band Blues Explosion is doing exactly the same thing to the blues). Robbins (and others) further asserts that this was a "one-take no-rehearsal guitar-army tossoff." He couldn't be further from the truth. Barrett Jones, then a struggling recording engineer (later producing Foo Fighters) described the experience:
When the band's beat-up van pulled up to the curb sputtering and spewing thick gray smoke, and three guys and a girl wearing black leather spilled out, Jones was a little unsure of what he had gotten himself into. He'd only recorded a few times before, and as a result, offered extremely cheap rates--in this case, $150 for four complete songs. Those four songs ended up taking four hellish days.

First, Spencer was never happy with the takes. "He'd say, 'That sounds too good--make it sound worse,'" Jones remembers. ... And Pussy Galore loved noise--loud, obnoxious noise. "God, I hated them for that," admits Jones.

To the chagrin of Jones' roommates, the band had a seemingly endless supply of noisemaking tools. They'd power up a rusty chainsaw for one song and hammer a steel oil drum on another. They broke glass and banged on sheet metal for hours. They also liked guitar feedback, and would spend forever perfecting just the right squeal.
Pussy Galore sound like shit! Pussy Galore have the best sound ever!
While no way, now how, as good as some of their later stuff (
Sugarshit Sharp
EP is on iTunes and recommended as their best collection available),
Groovy Hate Fuck
contains several classic cuts and I don't mean that in the
Journey/Yes/Styx
sense. The irony is that while they may have served as inspiration for a generation of garage noise bands (Jesus Lizard springs to mind), almost all of the songs on Groovy could have been done 20 years prior and put out on Nuggets (that is, if the song lyrics and titles were cleaned up a bit). As many have noted, Spencer, who studied semiotics - the theory of symbols and how people glean meaning from words and sound and pictures - at Brown University - wanted to tear rock down to its core elements and rebuild in his own vision. Its a good thing Mark Anderson heard Rites of Spring first or he might have followed through on his supposed path to suicide. This vision was a dark self-hating/ everyone-hating vision and in marked contrast, seemingly, to the aspects of the Revolution Summer bands who wanted to use rock to unite and create a new "positive force." Its everything rock was intended to be - that is if you were around in 1969. Originally inspired by
The Cramps
themselves, the Revolution Summer bands were now using insular reference points and derided other bands outside their circle as "college rock". In Our Band Could Be Your Life,
Fugazi
go around town looking for places that sell tofu. Constrast this with an earlier lyric from their high school days: "We don't sit in circles/We don't meditate/we don't eat health food/cuz coke and Twinkies are great" and you can start to see why an opposition, albeit a glorious failure of an opposition, was formed. Spencer, too, went back to The Cramps but instead of making a beeline towards
The Clash
, he makes a screeching u-turn towards the
Rolling Stones
'
Exile on Main Street
and
The Stooges'
Fun House.
Rock was dead - now it was time toto stomp on the grave and kill any punk rock stragglers. In fact, the cover of
Groovy Hate Fuck
(see picture above) suggests the opening scenes of
Night of the Living Dead
where the zombies emerge from the fields at dusk to begin their night of terror.
Pussy Galore is dead! Pussy Galore lives!
1986 saw this and five other releases by the band. Disgusted with the inability to get shows booked in DC, the band (minus the drummer) decamped to NYC where "all the critics love you" especially if you dress in black and make a ton of racket. The band continued in this vein, getting better and better at their instruments and the science of feedback. They released a lot more material and added Bob Bert and Cristina Martinez (later to marry Spencer). After their break-up, Neil Hagerty and his girlfriend went on to form
Royal Trux
- which continued in the Pussy Galore vein. He got a nasty heroin addiction, spent time in jail and is now in the
Howling Hex
(about to drop an album on Drag City). Jon Spencer, of course, went on to form the
J
on Spencer Blues Explosion
where he went about the same thankless job of "being the thing" in this case a blues band and "not being the thing" (in this case mocking the blues). They now just call themselves
Blues Explosion
, suggesting Spencer has reined in his infamous megalomania somewhat (perhaps a side effect of fatherhood or maybe just a grudging respect of his impressive bandmates). They are on Sanctuary Records (where rock stars go to die). Julia Cafritz reportedly lives in Northhampton, MA near her good friend (and
Free Kitten
bandmate) Kim Gordon. Drummer John Hammill's whereabouts unknown.
Songs from
Groovy Hate Fuck
:
"
Just Wanna Die
" (later covered by Beck)
"
Kill Yourself/Asshole
"
Additional tunage:
"Soft Enfolding Spreads
" -
The Howling Hex
References:
Good Reads:
Other Sources: