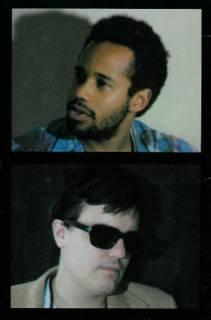 Larry Robinson and Todd Homer
Mooseheart Faith
Mooseheart Faith
LP
De Milo Records, 1988
What do you get when you combine a former member of the
Angry Samoans
with a refugee from an obscure Motown boy band? Why a
r
e
t
r
o
-
p
s
y
c
h
e
d
e
l
i
c
combo, of course or
Mooseheart Faith
in its first album.
Raw and tenuous and sincere, this record's record overall is 20/40/40 (bad/fair/great). Some tracks ("We Can Conquer the World Today", "Time Has Told on Me") are just so unlistenable that I couldn't bring myself to even cut a digital version for further evaluation. Others are flawed, but still salvageable: From annoyingly overbearing and self-conscious vocals ("I Fade Away"), amateurish Farfisa playing ("Unhinged") or just not especially good songcraft ("Time Has Told On Me"), this set of songs could have used some more polishing and a slightly better recording engineer (the over-dubbed bass on most of the songs sounds like it was plugged directly into the back of the recorder).
Several though are mix-material and worthy of comment - "Golden Light", is a straight-ahead instrumental, "Love Went Bad" kinda reminds me of an early
Dinosaur
(
Jr.
) jamming with
Joseph Arthur
and "Back from Samoa" could be mistaken for a demo from
F
laming Lips
Yoshimi
... and I rather like the epic silliness of "Aliens From Space" - it's sort of a
Jad Fair
and the
Frogs
time travel back to San Francisco goofy acid scene and writes a song about the locals.
Wish I could say something about the lyrics as the vocals are often incomprehensible BUT THEY DIDN'T INCLUDE THE LYRICS SO I GUESS WE'LL NEVER KNOW!!! (as you know this is one of my pet peeves).
This LP was released with extra tracks under the title of
Golden Light
but is no longer available (except on
E-Bay
).
Mooseheart Faith
is now known as
Mooseheart Faith Stellar Groove Band
, in case you missed the clue from their shorter name that they are a big homage to '60's folk-psyche. Their latest CDs can be found
here
(again, go to
Forced Exposure
for the best prices and selection) and I can't find any evidence to suggest that they AREN'T together.... And if you want to compare these cuts with their more polished folkie sound, go
here
to download a cut from a more recent LP (warning:
very
slow server).
Todd Homer was in the
Angry Samoans
and their epic and bitter breakup is hashed out once again
here
- I'm not totally sure that's Todd speaking at the bottom of the page, so take it with a grain of salt. Very little exists on the net regarding Larry Robinson's old band known as
Apollo
- I'm not even sure they were a boy band but that's what I read somewhere (can't find the reference anymore). Well, if it does exist, I haven't found it (try searching for
Motown
and
Apollo
, it's only something like 10,000 hits to wade through) so maybe someone else knows. Larry also dabbles in Persian music, from what I understand...'s'cool, s'cool... In contrast to yesterday's
Slits
, there's very little in the way of fan sites or discussions on this band which might be tellin' ya something.
Notes: This is a cut-out I received as a review copy while working for WDC Period. It's got a punched-out hole in the upper corner, there's a little surface noise in the outer grooves and one or two pops in the interior but overall is in VG+ condition.
Golden Light
Back From Samoa