The Bags
(Boston)
self-titled
LP
Stanton Park Records, 1990
This is an album that doesn't work too well in the cold sober sunlight of the day but turns into a totally different beast once the moon comes up and the party materials come out (and no, the Vinyl Mine only tolerates legal party materials- like those conical party hats and noisemakers).
The Bags were a mid-80s / early-90s Boston 3-piece that mostly played music as if stuck in a pre-
Sex Pistols
rock'n'roll timewarp. At times, they were sort of an
MC-5
/
Stooges
version of
Spinal Tap
(not to say that both bands didn't have their Spinal Tap moments).
Foghat
and
Kiss
also spring to mind when listening to some of their songs. At other times, pretty thoughtful and original and even somewhat eclectic (one of the cuts, "Superpower" would have been right at home on a Boston hardcore compilation). I once saw them play in DC and they were the type of band where both the bassist and guitarist wore their guitars down at crotch level and had the same type of hair as Slash that they shook around as they played. They almost looked like a Peter Bagge (forgive the coincidence of their names) comic strip if it wasn't for the non-heroin chic babyfat and acne (well, maybe the acne).
Side 1 is what I would call The Stupid Side. With songs like "Atomic Coconuts" (because electronic coconuts just don't cut it) and "The Beauty of the Bud" (a tribute to the devil weed), you can't help but getting good and stupid. This is a great side for preparing to go out. And it's just not for single hipsters. The
Ohio Players
ish "Atomic Coconuts" is stupid enough for the kids, too and I dare you not to dance to it.
The second side is perhaps more thoughtful. The afore-mentioned "Superpower", their take on foreign policy that makes as much sense as, say, Noam Chomsky or Bill Kristol (which is to say, it makes no sense) and the almost wistful "Closer Then," a nostalgic recollection of an old friendship that might bring a tear to yer bloodshot eyes. This is the side you put on when you get back home. While the only "chilling out" I do is when I sleep, this does kind of set the stage for it.
The Songs:
"
The Beauty of The Bud
"
"
Atomic Coconuts
"
"
Closer Then
"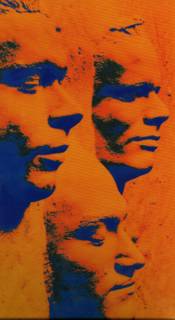 Band Members:

Crispin Wood, guitar, vocals
Jim Janota, drums, vocals
Jon Hardy, bass, vocals
Links/Factoids:
The Boston Rock and Roll Museum's The Bags page with biography and discography
Guitarist/Singer Crispin Wood's hilarious Rock School website (Jim Janota and Jon Hardy provide voices to his animations)

Trouser Press's review (and yes, I made the Spinal Tap and MC5 connection before reading this_

The Bags reformed in a limited manner last year and put out a two-song live record on their old label, Stanton Park Records (who provided this promo, lo so many years ago). This record appears to be out of print (although I'm willing to be corrected) although Stanton Park offers some Bags rarities.

Aram Heller is the executive producer. Here's my previous review of his

World of Distortion

single.
Boston sound genius Lou Giordano shares engineering and producing duties with Carl Plaster (an unsung sound guy from Boston - worked with

Come

and

Juliana Hatfield

)

The photograph details used above are from the album and credited to Mim Michelove
Not to be confused upon penalty of a Jay Hinman takedown with the L.A. Bags
A Peter Bagge band drawing (although its rather smallish)

The fine print: All MP3 tracks are provided to stimulate discussion and further research and education into the arcane world of (mostly) independent music. Mp3 files are removed after roughly two weeks or at the request of the artist/copyright holder.