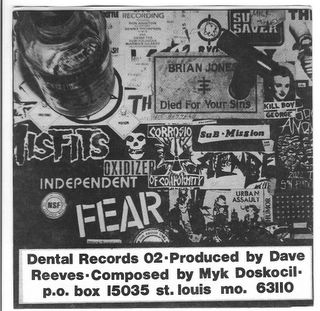 (photo of the back cover of
Alter Human Industrial Fetishisms
)
Well, maybe it's not by popular demand but someone on
the previous thread
asked for more Drunks so here it tis.
A St. Louis punk band that existed from the mid to late 80's,
Drunks With Guns
recorded
Alter Human Industrial Fetishisms
and from the discographies I have read, it was the second to last 7" under the second (and by far, the best) incarnation of the band. From what I have read, they only released 7"'ers and cassettes - although post-break-up, they later collected songs onto full length CDs or LPs. It's all so confusing - like the band.
I previously posted "
Leprosy
" with the assessment that it was the best cut on this 7" EP. But I take that back. Instead consider "Enemy," a tortured litany of all the peeps, things and Supreme Dieties that have converged on Mr. Doskocil to make his life miserable (this was before his bandmembers launched lawsuits against him, I guess). If you've ever spent time in humid St. Louis during the Summer (hell, for the Winter, Spring and Fall as well*), you can perhaps understand what he's going through. It starts and ends abruptly as if someone has pulled the plug on the whole enterprise.
"Zombie" is on the other side - it goes on too long for me (and that's only at 5 or so minutes) - perhaps this is a band only really suffered in short doses ...
Song
:
"
Enemy
"
Links
:
Saved Round - Big Whoop! Exclusive:
This is a letter I received from Doskocil when I mail-ordered this single (click to enlarge) explaining the title of the EP and "news" of the next release. It has a signature in case you want to bother to analyze this alleged drug dealer's personality or whatever... The letter promises to put me on his "mailing list" - this, in true DWG fashion never happened...: