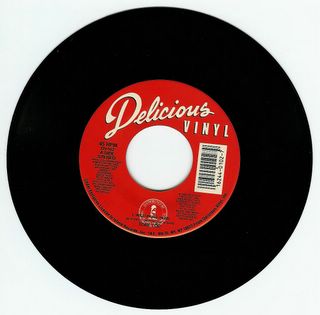 b/w "Loc'ed After Dark" (Clean Version)
Delicious Vinyl, DV 102
Der Spiel:
I picked this up at a flea market or garage sale, all dirty and clothed only in a white sleeve, it was sitting right next to it's sister single, "Funky Cold Medina".
Ahhh... A. T. Smith aka
Tone-Loc
has/had that truly unique laid-back cheeba-infected throaty VOICE. THE VOICE... If God ever does speak to me, I hope he uses Tone-Loc's whisper.: "Let's Do It" y'know, the next time I go up against the Anti-Christ.
But truth be told, I don't really have much play love for this cartoony rap song. Sure it's got a funky beat and if it came up in the Shuffle, say, on a Friday afternoon, I wouldn't rush to to flip it to the next track... but it was so overplayed at the time --remember that cheesy video - wait, ok, that was kinda cool - ripping off Robert Palmer and his slickee girls ... Now "Funky Cold Medina", (heyTone, more cowbell! ), I can listen to that forever.
Alas, Loc was pretty much derided by others at a time when Def Jam and NWA were really hitting their stride - he always said he was a gangbanger but that he just was too cool to sing about it. In reality, he had signed on with Dike and Rossi (producers from Delicious Vinyl) and they wanted to churn out some Top 40 hits. It did introduce a lot of suburban kids to rap, though.
"Wild Thing"'s greatness measure seems to be proportional with the volume and the amount of alcohol you've ingested. It makes for a perfect set-up at a Wedding - turn on the viddy camera, stick this side on the turntable, turn it up and tape ol' Uncle Marty doin' his Robot Chicken dance. Instant Internet success.
The other lesser known songs on the album which sports "Wild Thing", titled
Loc'ed After Dark
were more in his desired style and considerably smoother - Uncle Marty won't do the robot dance to any of the other cuts (besides "Medina" and that calls more for his Egyptian Limbo dance) - "Cheeba Cheeba" is about the ups and down of too much dope and mixes his self-depreciating humor with a bit more edge.
In that vein, "Loc'ed After Dark" appears on the flip of this single. It's a clean version, alas, all the motherfuckers are replaced by vinyl scratching... It's simple structure along with the old-school Grandmaster Flash style delivery and an extended vinyl scratch makes me nostalgic for the halycon days of rap, even if they weren't that halycon, anything's better than the unmemorable crap today. I think this would make a great track for the next Grand Theft Auto game (I'd love to see a GTA New Jack City).
Sample lyric grab: "I slip off stage / and clear my head / my next thought / hmmm / just to knock them dead"...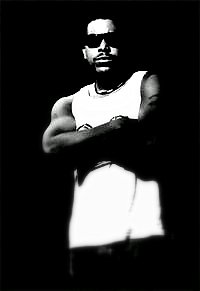 Tone Buff
Where is He Now?
He's still out there - touring both with Legends of Hip Hop (along with Young MC, Digital Underground and Coolio) and doing his own shows. He has an upcoming
gig
in Phillie on June 24th.
A Nice Song For the Kids To Dance To:
"
Wild Thing
" (Radio Edit) -
Tone Loc
, recorded straight from vinyl...crackle and clicks and all...(see below for cleaner version)

Links/Further Reading/Listening':
Super Bonus MP3:
Wow - you read all the way to the bottom of the page... Noise-acid band
Treasure Mammal
from Phoenix wrote a tribute, of sorts to the man: "
Tone Loc
." They seem to have drunk of the Medina... a number of times. (Alternative
download site
for TM)